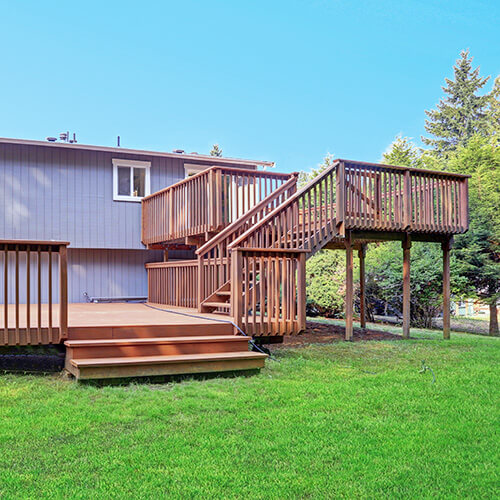 Benefits of Residential Screw Pile Installation
Engineered & Certified
Long Lasting Foundations
More Economical Than Other Foundations
Installation Is Fast & Easy
No Waiting, Start Building Right After Installation
No Mess or Fill to Haul Away
No Frost Heaving
Contact Us for a Quote Today
Our CCMC Certified Deck piles are the best possible foundation for your new deck project. Better than concrete piles and not prone to frost heaving. Contact us to learn more about screw piles for decks.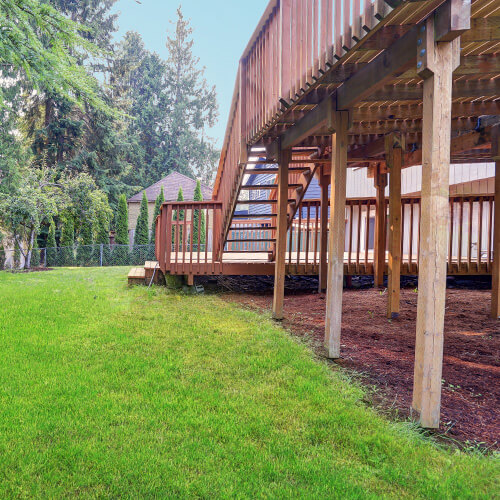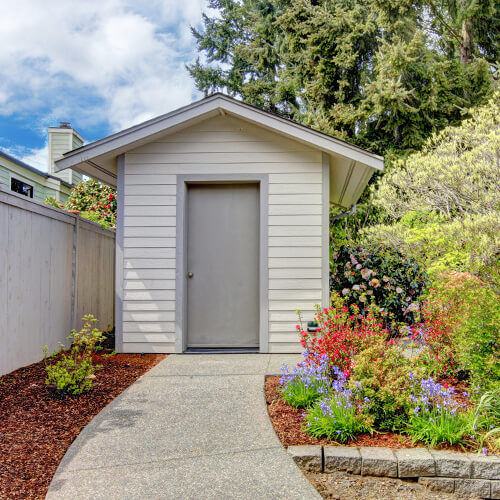 Screw Piles for Garden Sheds
Screw Pile foundations are great for supporting sheds or other detached structures. Even small sheds can be damaged by an unstable foundation. The stability and low cost of screw piles make them the ideal foundation for large or small shed projects.
Screw Piles for Preformed Stairs
It's not uncommon to find old pre-formed steps that have shifted or even cracked. Concrete steps are very heavy. Because of their weight they can move if they are not supported on a solid foundation. Screw pile foundations are very strong. Even our small screw piles can hold over 5000 lbs per pile. Screw piles work well to support pre-formed stairs. Contact us to learn more about screw piles Calgary.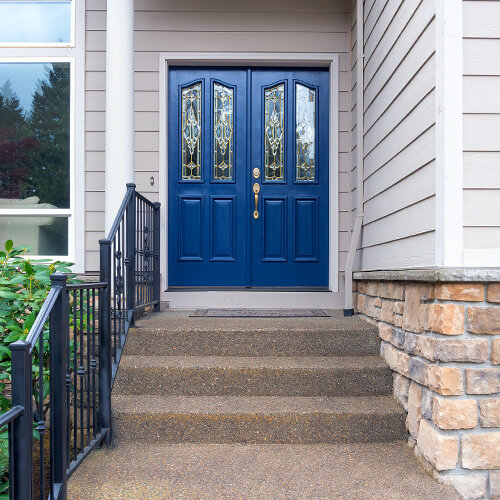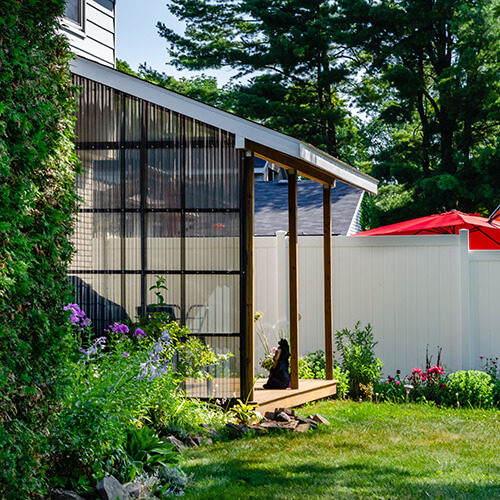 Screw Piles for Covered Decks & Sunrooms
When a roof is added to a deck there are new loads and stresses that need to be considered. Our engineered screw piles are built and installed to meet these needs. We provide stamped engineered drawings and torque reports upon request. These reports can be signed off by an engineer and submitted with your permit. Ensuring a safe and stable foundation for your extended outside living space.
Screw Piles for Concrete Support
Poor soil conditions can cause damage to concrete slabs, sidewalks, and poured stairs. When poor soil erodes or settles, it no longer provides the support that concrete needs, and this causes it to crack and break. A screw pile's helix transfers the load deep into the ground. Because of this, helical piles are very stable and do not settle or heave. Installing helical screw piles under your concrete supports the concrete evenly despite the condition of the surface soil. It's this stable and even load-bearing support offered by screw piles that prevents any cracking or damage to concrete slabs and steps, increasing their lifespan and durability.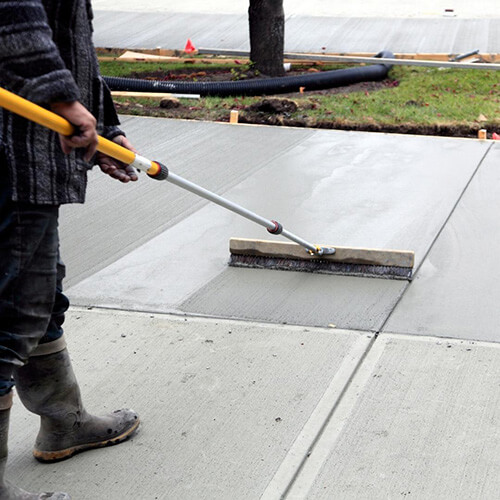 Screw Piles for Grade Beam Construction
A grade beam is a reinforced concrete beam that transfers stress from a bearing wall to a spaced pier foundation, like that of screw piles. Helical screw piles can be installed under a grade beam to support loads for garage walls and home additions that do not use wall footings like a residential basement would. Instaed grade beams bear loads on the soil and transfer the wall's weight straight into the ground via the screw piles. Grade beams are used when the load-bearing capability of the surface soil, like the soil found in the Calgary region, is less than the expected design loads. Special grade beam pile caps are available so reinforcing rebar can be tied directly to the screw pile prior to pouring the concrete. Screw pile foundations for greade beams make for a long lasting and more economical foundation option for structures like garages, garden suites, large sheds, and home additions. Contact the Calgary Screw Pile Pros to learn more about supporting your grade beam with helical peirs vs concrete footings.