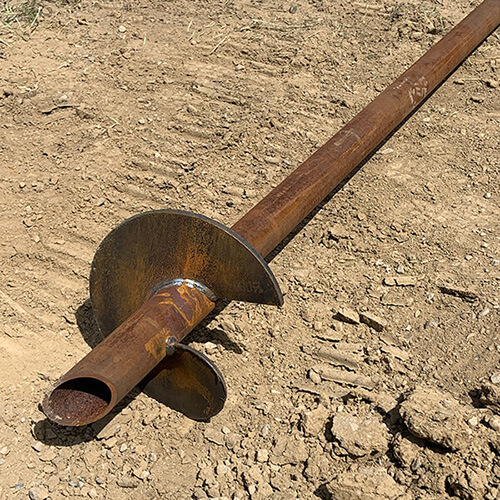 Screw piles are installed in the ground and can support heavy structural loads. Multiple screw piles are used together to create a deep ground foundation system that can be used to support many different types of residential and commercial structures. Screw piles, also referred to as helical ground anchors, are long tubular pipes with a helix at one end. This helix acts like the threads of a screw and allows the piles to be turned into the earth. The helix of a screw pile is what transfers the load of the pile shaft to the earth.
Contact Us for a Quote Today
What are Screw Piles Used for?
Common residential used for screw piles are:
Decks

Three Season Rooms

Sheds

Fencing and Gates

Home Additions (grade beams)

Garage slab support

Sidewalk support
… and much more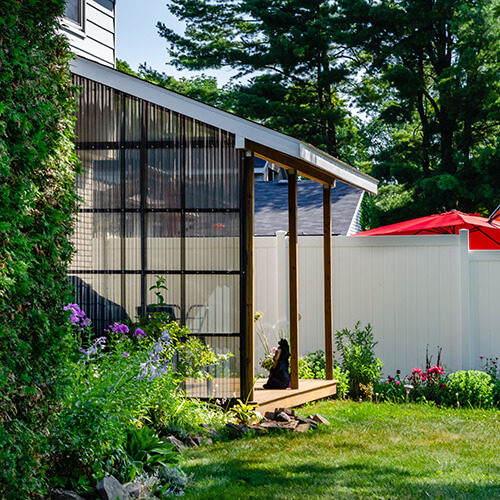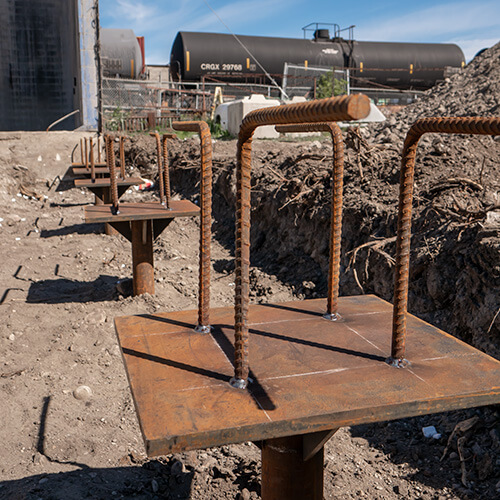 Grade beam support

Foundations for conduit and pipe racking

Concrete slab support

Commercial signs

Mechanical utility bases (power transformers)

Solar Farm foundations

Temporary buildings
… and much more
What are the benefits of screw piles?
Screw pile foundations offer many benefits over other foundation alternatives. 
Fast Installation
Helical piles are pre-manufactured structures that are installed using a specialized machine equipped with a drive head. Because the piles are delivered to the work site ready to install, there is little welding, cutting, or fabrication work that is needed during the installation process. Because of this, it is only the time required to turn the piles into the ground that is required during install.
A proper screw pile machine can drive a single helical pier to its required depth within minutes. With this being such an expedient process, a large backyard deck foundation can be completely installed within an hour.
Additionally, compared to concrete foundations that require a lengthy curing process, helical screw piles are ready to be built upon immediately after installation is complete.
Cost Effective Foundation
The popularity of screw pile foundations has grown in recent years. This demand allows for a stream-lined fabrication process that can let the manufacturer produce certified screw piles in large volume. Mass production processes coupled with simple steel construction mean screw pile costs are low compared to other alternatives. This efficient fabrication paired with fast installation methods equates to a low-cost, high-quality foundation system for most residential or commercial practices.
Screw Pile Steel Construction to Withstand the Seasons better than Concrete
Traditionally, most foundations in the Calgary, Alberta region were made using concrete pillars and footings. Concrete has always been a problematic foundation material. Despite being strong in compression, concrete is weak in tension. For this reason, concrete needs help in resisting tensile stresses caused by bending forces. Often, during cold winters, concrete piles will crack near or at the frost line in the ground. The lack of tensional strength is why concrete piles fail where the ground shifts. As soon as cracks appear in a concrete pile, water then penetrates the concrete and when that moisture freezes, it breaks the concrete apart and causes what is referred to as frost jacking or heaving.
Due to their steel construction, screw piles are not only strong in compression but also engineered to be strong in resisting bending stresses. Because a steel screw pile won't break or crack at the frost line, there is no chance of a properly installed screw pile from frost heaving and causing a structure to become unstable like that found with concrete piles.
How Can You Use Helical Piles for Your Next Construction Project?
Screw Piles can be used in many different projects, and it does depend on what you need your pier foundation to support in order to ensure your foundation is designed and installed properly. For simple projects like uncovered decks and small garden sheds, the City of Calgary will already have typical foundation designs that can be adopted for your deck or shed.
For more complex structures like those of covered decks, grade beams, home additions, and commercial structures, engineering designs will be required. A structural engineer will consider all of the potential loads your structure may experience and can design a screw pile foundation that will conform to the requirements in the Albert Building code. Once your engineered foundation design has been submitted and approved by the City of Calgary, you are ready to begin your helical pile installation.
The certified screw pile installers at the Calgary Screw Pile Pros will help ensure your new screw pile foundation is installed in accordance with the engineering requirements specific to your construction project. If your project requires engineering, contact us today and our engineering team is available to help.
If you choose a helical screw pile foundation from the Calgary Screw Pile Pros, then you are ensuring that your project has long-lasting stability through expert installers working to the highest installation standards.
Have Questions about using Screw Piles for your Project?
Contact the
Calgary Screw Pile Pros
today. Our team is here to help guide you through the design and installation process. Free quotes available.